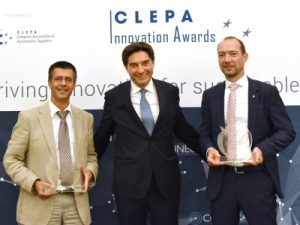 EMA prototype combines WABCO's world-class braking, stability and vehicle dynamics control systems on trucks and trailers with ZF's top active steering technology. CLEPA is the European Association of Automotive Suppliers and has more than 100 member companies and over 20 national as well as European trade associations.
The CLEPA Innovation Award 2017 celebrates excellence of innovative technologies and solutions developed by leading automotive suppliers and vehicle manufacturers in the categories Environment, Safety, Connectivity and Automation, as well as Cooperation. CLEPA's international jury of industry experts recognized Evasive Maneuver Assist in the classifications Safety and Cooperation. Assessing 56 applications from 31 companies across Europe, the panel of judges ranked all technology innovations based on the following criteria: ambition, market relevance, impact, and quality.
Demonstrated for the first time in June 2016, Evasive Maneuver Assist leverages the capabilities of WABCO's industry-leading OnGuardACTIVE™, its most advanced, radar-only collision mitigation system. A radar sensor identifies moving or stationary vehicles ahead and alerts the driver via visual, audio and haptic signals of impending rear-end collisions. Should the driver determine that the system cannot avoid a rear-end collision by driver-initiated or autonomous braking alone, Evasive Maneuver Assist engages to help the driver to safely steer around an obstructing vehicle and to bring truck and trailer to a complete and safe stop. In such situations, EMA's collision avoidance function is connecting WABCO's proven electronic braking system (EBS), advanced emergency braking system (AEBS), electronic stability control (ESC) and vehicle dynamics control systems to ZF's electrohydraulic ReAX power steering system.