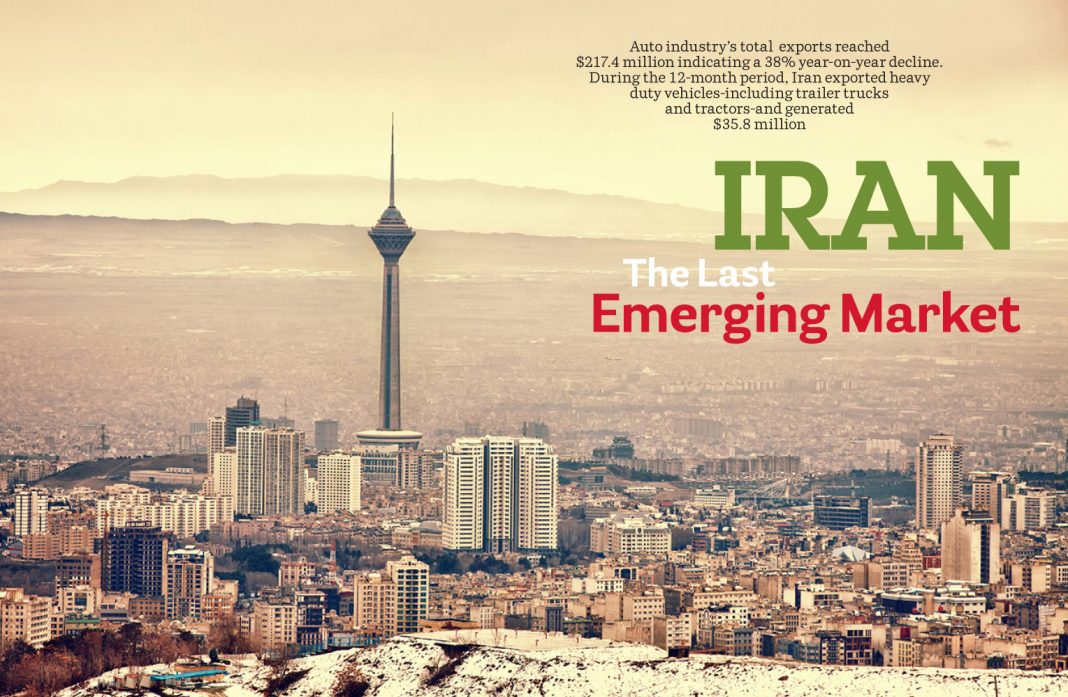 IRAN : The Last Emerging Market 
Population: 80 mn

Country Size: 1,648,165sq km
GDP : 438.000 USD
Most Importan Routes: Tehran- Caspian Sea,Tehran- Mashhad, Tehran-Isfahan, Tehran-Tabriz, Pakistan-Kerman
Import : Top 3 countries , China, Japan, Turkey
Auto industry's total exports reached $217.4 million indicating a 38% year-on-year decline.
During the 12-month period, Iran exported heavy duty vehicles —including trailer trucks and tractors — and generated $35.8 million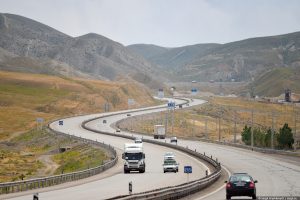 With the lifting of sanctions, Iran is expected to be a major trade and logistics hub. Easier movement of goods with no threat of sanctions will provide great trade opportunities in Iran. There are proposed projects to improve port and road infrastructure through partnerships with various nations.
The commercial vehicle (CV) market picked up after Q1 2016, experiencing a healthy CAGR of % from 2015 to 2022. The market has remained stagnant for a while due to both external and internal factors crippling economic growth and trade.
French and German original equipment manufacturers (OEMs) are already in talks with local commercial vehicle manufacturers to begin the process of re-entry with the sanctions having been lifted. Customers are awaiting the return of Western OEMs and holding back purchases in a market currently riddled with substandard quality.
The commercial vehicle market is dominated by local manufacturers such as IKCO, SAIPA, and Bahman Group, which, in partnership with various foreign OEMs make up % of the total market.
The three manufacturers have expanded the sales process and dealer numbers. Iran Khodro Diesel, Saipa Diesel and Bahman Diesel Co use external companies or different business units of their parent companies for sales and distribution. They have dense networks of sales points. This fortifies their market positions and ensures closer customer relations. Sales staff also receive training to advise customers. This was necessary, among other things, to cope with the increasing product complexity.
Increase in trade and infrastructure development after the lifting of sanctions as well as a mandate from local municipalities to improve public transport will result in robust growth for medium and heavy duty truck (M&HDT) truck and bus segments.
Tips for your Business Plan
Iran to become a market with numerous truck brands of different origins. In these markets, manufacturers can compete successfully if two things are considered in the business plan:
Segment focus: Define a clear segment and target group in the market and develop a product offering with a clear USP for them.
Volume: Set realistic sales targets despite the significant overall market size. Both are critical for manufacturers' long-term market success. The main risk for manufacturers in such markets is that competitors have overestimated their sales potential and will start to compete on price. This has happened in markets with similar manufacturer structures and reduced the profitability of the market. Maintaining pricing discipline is therefore important and in the interest of all stakeholders.