AKIA succeed significant developments for bus manufacturing and exporting in Turkey.
From its establishment until this time AKIA take some significant steps in Turkey and the World, make groundbreaking of its 3rd factory in Tajikistan. Tajikistan President Dear İmamali RAHMAN, Minister of Industry and Technology Dear Şavkat BABAYEV, Minister of Transport Mr. Hayrullah ASOYEV, Dushanbe Mayor Dear Rustom İMAMALİ and many bureaucrats and congressman attended the groundbreaking ceremony. Dear İmamali RAHMAN said that in the ceremony, the investment and employment that AKIA and Avesto companies has done to the their country are very important and he hoped that this investment would continue to grow. AKIA General Manager Remzi BAKA said; agreement between this two companies will help to improve ties between Turkey and Tajikistan economies. With large production capacity, modern facilities effective human resources Tajikistan will be an important investment country for exporting more vehicles in Asian market.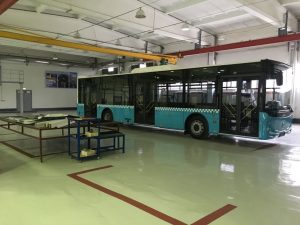 It is planned to produce 600 vehicles annually in the factory, which is based on the joint production decision with Avesto from one of the big companies of Tajikistan.
AKIA is to perform as export sales share of 85% of the buses produced in Turkey. AKIA's exporting to 20 countries, contributing to the development of Turkey. The investments will continue as a sign of the success of the company's bus production.