Over the past several years, Russia really has turned into a global leader in the introduction of urban smart technologies and accessible communications. It seems that Russia takes the fast lane into the world of driverless vehicles
Driverless Matryoshka
Matryoshka is a fully autonomous vehicle developed by residents of the Skolkovo innovation center, which can carry passengers, cargo and be used as a public utility vehicle.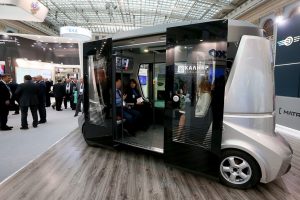 The electric bus has a passenger capacity of 8-12 people, and its battery takes four hours to fully charge and can go 80 miles at a speed of 18 mph. If necessary, passengers can call the operator via video call. Some 80 percent of the vehicle's components are made in Russia.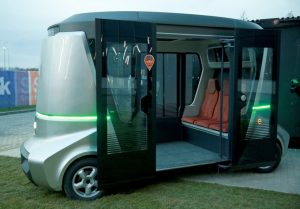 BMG's CEO and owner, Alexei Bakulin, said in May that a prototype bus costs 8.5 million rubles, but when the bus enters serial production the price should go down to 3.5 million rubles.
Since Russia does not yet have traffic rules for driverless vehicles, Matryoshka's first tests were conducted on Skolkovo's closed grounds. BMG's plans include testing the vehicle in city traffic.
KAMAZ Driverless Shuttle
Driverless shuttle bus has been developed by the Russian truck manufacturer, Kamaz, in partnership with the NAMI central automobile and automotive engine research institute. Kamaz also provided the bulk of the project's funding.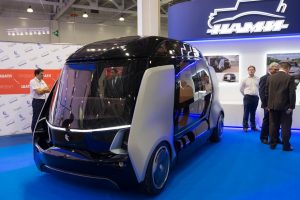 "The shuttle is fitted with deep machine learning technology, object recognition and detection technology, wireless remote control technology, as well as technology for localizing the vehicle on public roads," said Sergei Nazarenko, Kamaz chief designer for innovative vehicles, adding that the bus will operate in closed areas with the help of sensors whose location will ensure that there are no blind spots.
The work on driverless buses began in 2016, and Kamaz's first was unveiled last summer at the Moscow International Auto Show. The debut was so successful that Kamaz signed an agreement with Yandex on joint development of autonomous vehicles.
At the 2018 World Cup that will be hosted by Russia, prototypes will be demonstrated both in autonomous movement and in remote control. Then, the bus will be fine-tuned and prepared for serial production, which is planned for 2020. The price of a driverless electric bus is estimated at 10 million rubles.
Kamaz expects its bus will first and foremost find interest among closed and semi-closed territories, such as exhibition and recreation areas. The company does not rule out exporting the bus.
Road Signs for Driveless Vehicles
In 2018 road signs for driverless vehicles will appear on certain roads in Moscow, the Moscow Region and Tatarstan. According to Cognitive Technologies, which commissioned the signs, the paper work with design layouts was sent for approval to the Interior Ministry.

The three new road signs have the following meanings: "Attention, driverless vehicles in the area;" "Beginning of a road with driverless vehicles;" and "End of a road with driverless vehicles."
The new road signs are expected to be approved soon, and will be operational by 2020 after coordination with the State Traffic Inspectorate. Cognitive Technologies said driverless vehicles will appear before then as full-fledged traffic features on Russian roads.