Hıdırusta Otomotiv is filled with the pride and joy of having left behind "the 20 year" it focused on creating value for all business partners through game-changing product, service and solutions.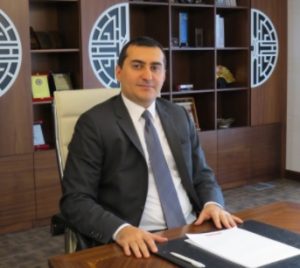 Saying "the real journey is starting now" Hıdırusta General Manager Rıza Şahin emphasizes that their highest goal is to extend further gradually value they added to the aftermarket sector and business partners.
HIDIRUSTA Otomotiv is 20 years old!
Starting as a wholesale distributor of heavy vehicle spare parts with mission "Your Spare Part Warehouse" in 1997, Hıdırusta Otomotiv continues its operations with expanding product range and branch offices serving throughout Turkey.
We talk about company's 20 years history and its future goals with Hıdırusta Otomotiv General Manager Rıza Şahin.
If you wish, first, let's start with the establishment story of Hıdırusta…
– History of the company celebrating its 20th anniversary under flag of Hıdırusta Otomotiv dates back to the end of 1970s. We started with retail sales of spare parts for Mercedes-Benz and MAN in 1978 and "wholesale distribution of spare parts" is on the focus of company today.
We owe much to the company's late founder Hıdır Şahin who left us a precious legacy and is known "Hıdır Usta" (Master Hıdır) in the sector. Hereby we remember Hıdır Şahin with respect, we will continue to work hard all together in order to keep his legacy alive and carry it higher.
THREE LEGGED TRIVET OF HIDIRUSTA
Q – What are values carrying Hıdırusta with success from the past to today?
– We have labor force, technical knowledge and equipment to enable us to do our business in the best way. Our the most important goals are always to provide product and services to meet at the highest level satisfaction of our all business partners, have technology that improves the processes and makes life of partners easier, and contribute development of the sector. We try to be a model with our passion to business, sense of faithfulness, entrepreneurial and innovative spirit as we make a continuous effort to carry out goals of our vision. These values that guide us in our all business activities are the foundation stones of the company.
Q – What is Hıdırusta's position that adopts "change and development" as a principle since it made a foray into the aftermarket sector?
– With mission "Your Spare Part Warehouse", we, as Hıdırusta Otomotiv, distributes to location more than 2000 throughout Turkey. The factors underlying Hıdırusta's success today are our product range, large distribution network and strong business partners.
Serving various product group such as engine, transmission, differential, electric, bodywork and chassis parts, trailer and bellow; Hıdırusta represents upwards of 60 global brands. We maintain our leadership position in supplying spare parts of heavy vehicles, MAN and Mercedes-Benz.
We transferred the experience in this field to new vehicle groups about two years ago and started supplying spare part for commercial vehicles such as DAF, Volvo, Renault, Scania, Iveco and Ford. We can say that we captured strong momentum in a short time.
We decided to expand the field of activity with light commercial vehicles besides heavy vehicles in 2017 and work to get the substructure ready for it.
Q – The "branching" steps are a significant milestone in the past of Hıdırusta. How many locations do you serve for customers? Do you have any plan to add new ones to the chain?
– We took the first step involving branching works in the end of 2013 opening Gaziantep branch. Subsequently we opened branches in Ankara, Samsun and Izmir. Istanbul Anatolian Side branch, the last ring of the chain, was opened in September, 2015.
Our branches in five different locations as well as headquarters in Istanbul/Basaksehir reinforced our logistic strength and increased customer satisfaction.
Most importantly, we reached a level we can serve customers as "Your Spare Part Warehouse" in real terms thanks to strong stock structure. We have no any new branch investment plan in the short term, but we aim at waving the flag of Hıdırusta in 10 different locations in Turkey as part of our 2020 plans.
"RESPONSIBILITY IS IN OUR BLOOD"
Q – One of fields you focus on recently is social responsibility projects… What headlines do you have in your agenda?
– Since the first day, we strive to touch much more people and provide value through various projects. Our social responsibility and sponsorship projects became more concrete and gained a corporate identity in the recent years. The first example of it was our support for activities of Turkish Psychological Association after Turkey's worst-ever mine disaster in Soma.
Then, as a sign that we attach importance to vocational education, we took the first step of a long-termed co-operation with Private İkitelli OSB Vocational and Technical Anatolian High School last year. And we undertook printing the books for more than 600 students in Automotive Technology class of the school. Our project continues with various organizations in order to enable students know more about the sector.
Our last project was event named "Responsibility is in Our Blood" in a co-operation with Turkish Red Crescent. We organized a blood donation campaign within our social responsibilities in last February with participation of our all employees and business partners. It was the first step of a project that will also continue next years.
We designated our theme for 2017 as "green" and we continue the "sapling donation" campaign we launched in the Forest Week last year, allocating our revenues during the week to the project.
"WE VIEW THE FUTURE WITH HOPE"
Q – Where will we see Hıdırusta in the next 20 years?
– We view the past with proud and the future with great hope. First, we extend our thanks to our all employees, business partners and customers who contribute us with their labor, devotion and commitments.
We aim at benefiting advantages of technology, increasing our product range and developing projects that will add more value to both our business partners and the country in the coming years.
Another important mission is to contribute the development of the sector. As co-founder of TATCOM, Turkey's leading network of spare part suppliers, we will continue to take a strong steps and to undertake significant tasks in Automotive Aftersale Product and Service Association (OSS) and 52th Committee Work by Istanbul Chamber of Industry.