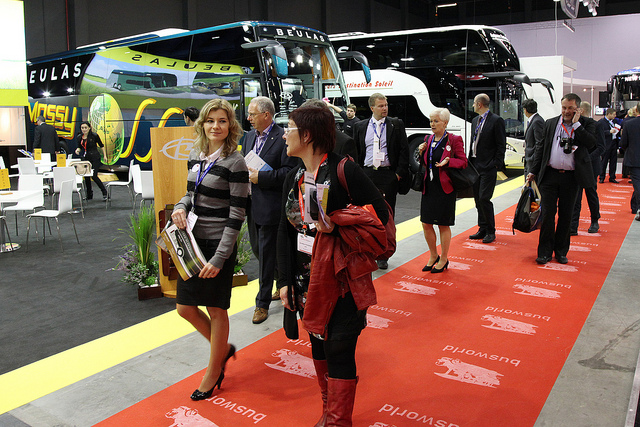 Busworld Europe (Kortrijk), the biggest B2B bus and coach exhibition in the world,  is dedicated to buses and coaches alone: no other commercial vehicles or other modes of
transportation are allowed. This gives the industry the attention it deserves and makes the exhibitiona real celebration of bus and coach.
Vehicle manufacturers and their suppliers show their latest products and services, six days long, from Friday 20 October till Wednesday 25 October 2017 in Kortrijk Xpo in Belgium.
Changing times
These are very interesting times in the global bus industry, being at a turning point towards zero emission and in a later stage autonomous vehicles.
There is a strong political demand for city buses with zero or very low emissions. Over recent years, Busworld Europe has seen the trend towards hybrid and all-electric buses and that is even going to increase dramatically in 2017.
Autonomous driving is the hype of the moment, with several tests taking place all over the world. The question is not whether autonomous vehicles will come, the question is only when will they
come.
It is not a coincidence that the key note speaker at the Busworld Europe Opening Ceremony in 2017 is Peter Hinssen, a serial entrepreneur, advisor, keynote speaker, author and… grandson of a Belgian coach operator. Peter is one of the most sought-after thought leaders on radical innovation, leadership and the impact of all things digital on society and business. He will come to speak about his latest book 'The Day After Tomorrow' and how he sees the day after tomorrow for the bus andcoach industry.