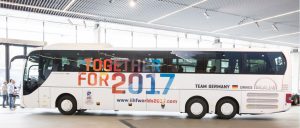 During the IIHF Ice Hockey World Championships in France and Germany this year, the teams will travel to their games in the comfort and safety afforded by MAN coaches.
The organisers of this year's IIHF Ice Hockey World Championships have chosen Asterix and Obelix to be the official mascots.
"Nothing is impossible"
According to this famous duo, words that offer encouragement to teams and fans alike. However, there are some areas where these two indomitable Gauls do not serve as role models for the athletes. Take travel, for instance. Whereas Asterix and Obelix adventures are mostly spent walking here, there and everywhere, the ice hockey teams have the luxury of travelling to games in a comfortable coach. So that the German national team could travel in style, MAN Truck & Bus presented the German Ice Hockey Federation (DEB) with the first of the 20 Lion's Coaches that MAN are providing for the championships.