Artists can not only travel to their shows in comfort, but also get a sound night's sleep in their bus afterwards with modified NEOPLAN Skyliner
The special features on the upper deck are even more obvious: anyone who climbs the stairs of the double-decker bus will find themselves amongst an array of beds mounted on the side walls, each in the form of a double bunk.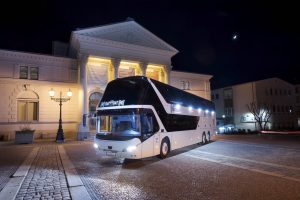 An unbelievable 20 people can lay their heads down to rest at the same time in the Skyliner; 18 of these in the double bunks and two in the rear lounge, which can be transformed into a bed in just a few steps.
There is also a quiet spot for the driver to relax next to their workplace, where a bed can be folded out of the front stairs.