Over the years Scania's new construction truck have been tested in a multitude of tough and unusual environments, but nowhere has been more challenging than an extinct volcano.
Experienced field-test driver Uwe Sommer is putting a new Scania construction truck through some challenging paces.
Sommer works in the forests north of Koblenz, Germany, maintaining forest tracks on behalf of transport company Forstunternehmen Krobbach, based in nearby Melsbach. Part of his work involves venturing into an extinct volcano in the Eifel mountain range, where he loads crushed lava that will be used for strengthening and improving a forest pathway that lies ten kilometres away.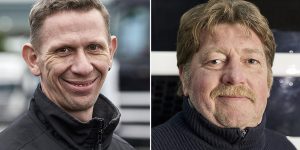 Within a typical hour Sommer and the truck must master three completely different conditions and surfaces: firstly, slow progress on the muddy lava slag in the 10,000-year-old volcano; next, travel at full speed along a newly paved country road; and finally, slow progress again to negotiate the muddy and rutted forest pathway.
Road conditions are normally bad in the forest, and the whole operation can be limited during severe rainfall, when the trucks get stuck in the mud. "It takes a lot of experience," Sommer explains. "You should know the different construction trucks, and how they react. And you also need experience of the surfaces on which you drive, since they all differ so much."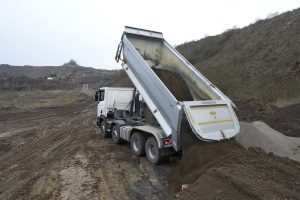 Forstunternehmen Krobbach was founded 45 years ago by Rudi Krobbach, a postman, and his wife, Edith. Krobbach wanted a sideline, so he began growing and recycling Christmas trees. Over the years the business developed into a more diverse forestry construction business, which soon meant a fleet of construction trucks were required.