The newly improved PACCAR MX-11 and MX-13 engines are incredibly quiet, providing optimum return at extra-low engine speeds. DAF is also introducing newly developed, extremely fast DAF rear axles, which – in combination with optimised transmissions – delivers exceptionally low fuel consumption and unprecedented travel comfort.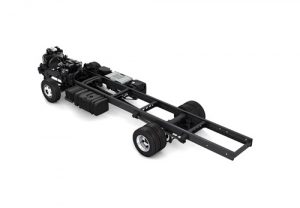 DAF introduces downspeeding engines and accompanying axles for buses and coaches
– Up to 6% lower fuel consumption
– Greater comfort for passengers
– Maximum torque available at 900 rpm
Significant updates to PACCAR MX-11 and MX-13 engines
– Reduced weight
– New combustion system, turbo and new valve train
– New intelligent pumps for oil, water and steering
– More torque delivered at low engine speeds
– Higher ratings up to 390 kW/530 hp
– Leading engine brake performance
New, highly efficient rear axles
– Faster ratios
– Reduced weight
– Lower internal friction

To ensure that every drop of fuel is used to maximum effect, DAF has taken a close look at every aspect of the power trains, asking, "how can we lower fuel consumption even further?" for new engines and new rear axles. The ultimate goal is to achieve maximum return, maximum reliability and maximum comfort for minimum costs.