The European Foundation for Key Account Management e.V. (EFKAM) recently awarded the leading trailer manufacturer's IKAM department its third successive "KAM Professional" certificate.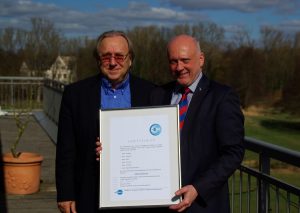 "Schmitz Cargobull became the first European company to receive this EFKAM certificate back in 2011", remembers Hartmut H. Biesel, the then Chairman of EFKAM. "This impressive award re-confirms its leading role as a strong, customer and service-oriented company within its industry".
Schmitz Cargobull has been working to professionalise its IKAM department to the benefit of many important customers since 1998. Today, the sales channel plays a key role in the Schmitz Cargobull AG sales portfolio.